Generally there is a children's Mass every third Sunday. The ensemble plays and Fr. Dave has a special homily for the children.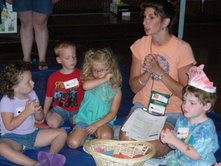 ========================================
CHILDREN PRE-SCHOOL
Sunday Pre-School will begin soon. Classes are
held in Longinus Hall during 10:30 a.m. Mass
each Sunday. All parish children ages 3 to
6 (and not yet in 1st grade) are eligible for
this program. The children are given an
opportunity to interact with other children
while learning about God through stories, music,
activities and games. The children will also be provided with a small snack each week. A $12.00 Registration Fee to cover the costs of the lessons, supplies, and snacks is required for each child upon registration.
All children attending classes must be registered. Anyquestions, please contact the Rectory 622-5470.
Please drop Registration Form and Fee in the
collection basket or send to the rectory as soon as
possible.
<><><><><><><><><><><><><><><><><><><><>
SUNDAY PRE-SCHOOL
Child's Name ________________________________
Date of Birth ______________ Phone ____________
Address _____________________________________
Allergies, please list ___________________________
Father's Name _______________________________
Mother's Maiden Name ________________________
Parent's Response: I can help in the following ways:
_____ Teacher _____ Aide _____ Greeter
_____ Musician _____ Snacks _____ Storyteller
$12.00 Registration Fee must accompany form
========================================
CHILDREN'S LITURGY
The Children's Liturgy takes place at 10:30
a.m. every Sunday in Longinus Hall.
During this time, children in grades 1, 2, 3
listen to the Sunday Readings in their own
words and try to apply the words of Jesus
to their own lives.
All children attending classes must be registered.
We would like to broaden and expand our program, so
we need greeters, storytellers, musicians, as well as
those who want to aid in these areas.
The Gospel needs you -- will you say yes? For more
information, call the Rectory 622-5470.
Child's Name _________________________________
Age ______ Grade _____ Phone _________________
Allergies, please list ___________________________
Parents _____________________________________
$10.00 Registration Fee must accompany form
Please drop in the collection basket or send to the
rectory as soon as possible.
========================================

Schuylkill Catholic Young Church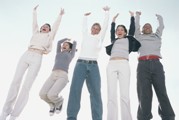 Teens in grades 6 - 12 have some great faith and fun choices at St. John the Baptist. You do not need to be a parishioner to particiapte. Join us! Visit your page at: