PARISH LIFE/ORGANIZATIONS
ADULT FAITH FORMATION
Offered several times during the year as a means of updating our understanding of our faith.
A group of women who help the parish by means of various fund-raising events which they sponsor. They meet on the third Wednesday of the month.
CEMETERY COMMITTEE
Responsible for collecting information on existing cemetery lots, recording of data, selling new lots, collecting perpetual care fees, and providing the on-going improvement of cemetery grounds.
Two separate programs, for preschool-aged children and for children in first through third grades, sessions take place during the Sunday 10:30 a.m. Mass. The children hear the Liturgy of the Word and homily proclaimed on their level. They then join the Parish Family in the main Church for the Liturgy of the Eucharist.
Parish event held in November – featuring crafts, theme baskets, food.
COLLECTION COUNTERS AND RECORDERS
Volunteers who count the weekly collection.
Grades one through eight meet weekly on Sundays from September to May. Students participate in various liturgical, Para liturgical and service projects.
Parishioners portray scenes from the life of Jesus presented during Holy Week.
We offer opportunities to spend time in prayer with our Lord in the Blessed Sacrament.
EUCHARISTIC MINISTERS
Women and men who help distribute the Eucharist at Mass as well as helping to bring the Eucharist to the homebound.
Volunteer men and women who provide food preparation and service for large parish celebrations.
FUNERAL CHOIR
Volunteers who come to lead the congregation in song for our Funeral Masses
Food Committee prepares and serves Lenten dinners on the Fridays of Lent.
MARRIAGE PREPARATION DIALOGUES
A Diocesan program involving married couples of the parish, who after training, work with couples planning to be married.
Annual July parish picnic
Parishioners assist other parishioners in need of many services from driving to doctor appointments to preparation of meals after surgery.
OVER 50 CLUB
Senior parishioners get together on Tuesday afternoon to enjoy bingo, board games, cards and light refreshments.
Elected and ex-officio members who meet four times per year between September and June. It oversees and approves parish endeavors, building projects, financial condition of the parish. It acts in an advisory capacity to the pastor.
Rite of Christian Initiation of Adults. This team meets weekly to share faith with those interested in finding out more about the Catholic Church, or for those who seek full membership in the Church.
READERS
Ministry of proclaiming the Scriptures during the Eucharistic celebration.
SATURDAY NIGHT CHOIR
Men and women who sing at the 5:00 p.m. Saturday Mass and other occasions such as the Lenten Presentation. Rehearsals are held every Tuesday from 7 to 8:30 p.m. September through mid-May.
SERVERS
Assist the priest at Mass. For boys and girls in the fourth through twelfth grades.
SOUP KITCHEN
Volunteers serve dinner the Soup Kitchen every fourth Wednesday of the month.
For junior high and high school students – they perform service within the community, plan self-funded trips and initiate creative fund-raisers to sponsor their activities.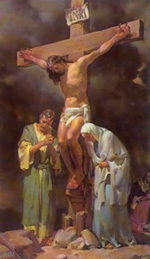 Prepare for Easter each year by gaining a better under-standing of those crucial final days in Jesus life. Under-stand the reason for His suffering. This dramatic and musical interpretation of the Stations of the Cross will in-spire you. We look forward to seeing you. Follow this link for all the details!

Our Reputation is well known! Join us for St. John the Baptist Parish Family Lenten Dinners! Casual atmosphere - terrific for a night out with the kids!
Dinners include our well-know Homemade New England Clam Chowder, Full Salad Bar, Choice of Vegetables, and Choice of Macaroni & Cheese, Baked or Mashed Potatoes. Beverages and Homemade Desserts also provided.