St. John the Baptist Eucharistic Adoration
We offer opportunities to spend time in prayer with our Lord in the Blessed Sacrament ...
A holy hour in the chapel every Monday evening (unless announced otherwise) from 5:30 to 6:30 p.m. and 7:00 to 8:00 p.m. This is a simple holy hour without any formal prayer or Benediction. It is not necessary to come for the entire hour. Just stop by as you desire.
A holy hour in the main church on the eve of First Friday from 7:00 to 8:00 p.m. This will be a formal holy hour ending with Benediction. Father will be available for Confessions.

Oh Come Let Us Adore Him!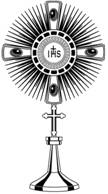 In order to maintain Perpetual Adoration of the Blessed Sacrament in our area, adorers are needed. Please sign up for a weekly hour or sign up as a substitute.

SCHEDULED ADORERS are currently needed for a few hours of the week. SUBSTITUTE ADORERS are also needed! No regular commitment required. Just tell us which hour you can substitute for on an as needed basis.

Please fill out a sign up sheet in the back of the church or call the Rectory at 570-622-5470 to become a part of the schedule in some way.